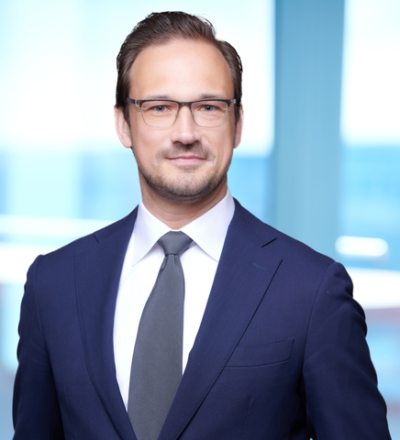 Andrew S. Baluch is an intellectual property attorney and formerly the Director of International IP Enforcement in the White House Office of the Intellectual Property Enforcement Coordinator (IPEC). In the White House, Mr. Baluch was responsible for inter-agency coordination and execution of the administration's Joint Strategic Plan on Intellectual Property Enforcement. Prior to his White House appointment, Mr. Baluch served as an expert legal advisor to the Director of the U.S. Patent & Trademark Office (USPTO) during the negotiation and enactment of the Leahy-Smith America Invents Act (AIA). In this role, he worked with the USPTO's Patent Trial and Appeal Board (PTAB) on designing and implementing the AIA's new post-grant revocation procedures, and in drafting the USPTO's 2010-2015 Strategic Plan.
Mr. Baluch represents and counsels clients with complex intellectual property matters, particularly in USPTO post-grant proceedings (inter partes review, post-grant review, reissues, reexaminations), and in appeals before the Federal Circuit and the U.S. Supreme Court.
Mr. Baluch is the author of the treatise "Patent Reform," a comprehensive guide to patent reform developments in Congress, the Executive Branch, the courts and the states, published by West (a Thomson Reuters business). Mr. Baluch's writings have been cited in committee reports of the U.S. Congress and in Federal Circuit and district court opinions.
Mr. Baluch is co-president and chair of the amicus committee of the Naples Roundtable, a 501(c)(3) non-profit organization engaged in the advanced study of intellectual property law and policy, in fostering the exchange of ideas, viewpoints, and scholarly papers among leading jurists and practitioners in the intellectual property field. Mr. Baluch is on the board of directors of the PTAB Bar Association and is active on the association's Trials Committee. He is also a member of the American Bar Association Section of Intellectual Property Law, where he is vice chair of the association's patent legislation committee.
Mr. Baluch earned his law degree from Boston University School of Law, where he was an editor of the Boston University Law Review. He earned both masters and bachelors of science degrees in materials science and engineering from Northwestern University where he conducted nanotechnology research.
Mr. Baluch previously served as a law clerk to Judge Richard Linn of the U.S. Court of Appeals for the Federal Circuit.
Mr. Baluch is admitted to practice in the District of Columbia and before the USPTO, the Federal Circuit, and the Supreme Court.